Follow in Frank Van Riper's and Judith Goodman's footsteps, visiting some of the same places they photographed for their bestselling book, Serenissima: Venice in Winter–well off the beaten path and wonderful to shoot. Every January Frank takes a small group of photographers to Venice on a week-long photo workshop to experience the Floating City when (most) of the tourists have gone and when Venice becomes, if only briefly, a living, breathing—and astoundingly beautiful—city.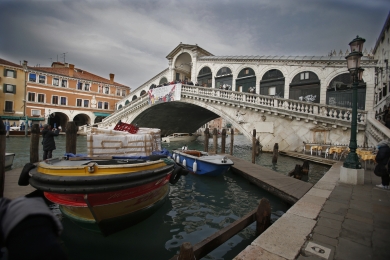 There will be early morning and late-night photo excursions, visits to places tourists rarely travel (the vibrant open market La Pescaria, for example, people-watching along the Zattere, a photo tour of the Fenice opera house, visits to charming wine bars and enoteche, etc., etc.) You also will visit local artisans in their studios, where some of Venice's greatest contemporary works of art are crafted.
NOTE: participants also will have free time during the week to wander this magical place on their own, to museum-hop and visit popular sites like Piazza San Marco and the Doge's Palace. Students will receive as part of their package a one-week vaporetto pass for unlimited travel on Venice's ubiquitous water buses.
Elegant first-class accommodations are in one of the city's best boutique hotels located in Venice itself, not far away in Mestre on the mainland. This means that the entire city is readily and easily accessible.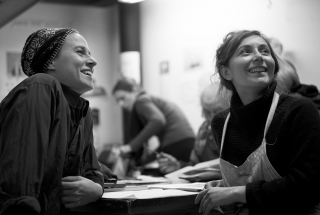 This is a photo vacation with NO entrance requirements. These workshops are geared to the enthusiastic novice as well as to the semi-professional. Instruction will be tailored to your level of expertise.
Venice never fails to excite and to astound. Yet it is a walking city, far removed from the bustle and noise of great cities like New York, Paris or Rome. One of the safest cities in Europe, it invites leisurely meandering through its myriad calles and campos. As famed author and travel writer Jan Morris noted, in praising Serenissima: Venice in Winter…
"One of life's subtlest acquired pleasures is the Venice of winter, of mists and puddles, umbrellas and empty alleys and gondolas in the rain…."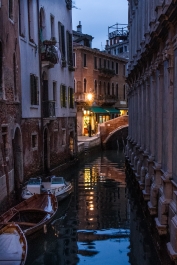 Join Frank Van Riper on what will be a once-in-a-lifetime photo adventure.
Following are the key details (subject to change):
Dates: mid-January–after Christmas and before Carnevale. Next workshop will be January 13-19, 2018.

Cost $4200 per person
What's included:
First-class hotel accommodation in Venice.
All breakfasts, welcome dinner.
Week-long no-limit vaporetto pass
Private instruction, behind-the scenes tours, visits to local artisans in their studios, regular critiques at hotel
Signed copy of Serenissima: Venice in Winter, and more.
NOTE: Non-photographer partners are welcome to share their partner's room and join the group for a $2000 fee. (nb: LIMITED AVAILABILITY. They will receive the same meal privileges as well as their own vaporetto pass.)
IMPORTANT: Though our workshops are informal, informative and molto simpatico, they do involve a fair amount of walking. Participants should have no mobility issues.
Workshops in the US and in Europe also involve getting on and off boats and riding in vans. Though we make every effort to insure our students' comfort and safety, Goodman/Van Riper Photography cannot be held liable for circumstances beyond its control. Participants agree to this as a condition of workshop participation.
DEPOSITS: Fifty percent deposit required to hold reservation;
balance due by November 1st
Cancellation policy: In the event of cancellation, deposits will be refunded provided the spot can be re-filled. No refunds made after November 1st.
If you have any questions, feel free to contact us via email:GVR@GVRphoto.com or by phone: 202-362-8103.
Buon Viaggio!